REPLACEMENT OF UPPER FRONT TEETH WITH DENTAL IMPLANTS
By Dr. James Khazian DMD. AFAAID. FICOI.
Everyone agrees that loosing upper front teeth is a tragedy. Upper front teeth are by far the most prominent facial feature. Most people firmly believe that healthy teeth and pleasant smile is important for their self image and confidence, and play important role in their personal and professional lives.     
Loosing upper front teeth is quite common. People lose their upper front teeth due to accidents, fall, sport related incidents, decay, and periodontal (gum) disease. Old solutions for the replacement of missing teeth included dentures, bridges, or just do nothing. In today's modern dentistry dental implants offer the best solution for replacement of missing teeth.
Unlike dentures which are bulky and unnatural, or bridges which require grinding down their healthy natural teeth, dental implant are the most natural way for replacement of missing teeth. Dental implant are titanium screws that are surgically inserted into the jaw bone. Due to their biocompatibility, dental implants create natural bond with the jaw bone and provide strong foundation for support of porcelain teeth.
Like natural teeth, implant teeth become permanently attached to gum and jaw bone and feel, function, and look like natural teeth. Implant teeth feel so natural that people with implant teeth quite often forget having them in their mouth.
Replacement of missing upper front teeth with dental implants is the best and most logical treatment approach. The following case presents a patient with 4 missing front teeth. 2 dental implants were used to replace these 4 missing teeth.
This is an actual patient of Dr. James Khazian and both surgical and restorative phases of treatment was  performed by him. This patient is a 58 years old male who had lost his 2 upper center front teeth several years ago. Those 2 teeth were replaced by grinding the 2 healthy front side teeth and attaching a bridge. The bridge failed later due to decay on the 2 side teeth that were ground down and he lost those 2 teeth as well.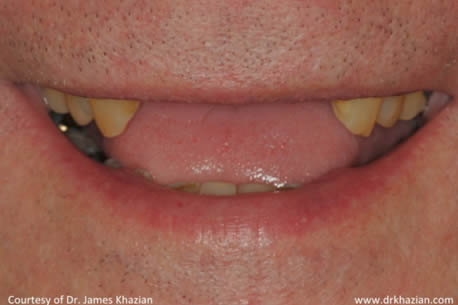 This is the pre operative picture which shows 4 missing upper front teeth. Initially patient had 2 upper front teeth missing and a bridge was made by grinding 2 of his natural teeth for attachment of the bridge. The bridge failed a few years later due to decay on the teeth that were ground down.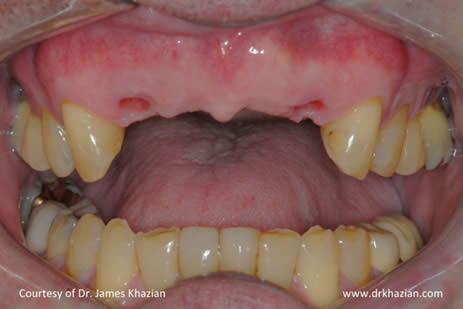 This picture was taken after 2 dental implant were surgically placed next to canine teeth. Such surgical procedure is almost always performed under local anesthetics in dental office, and takes about 45 minutes to an hour to complete. Since the procedure is minimally invasive, patient will have very little or no post operative discomfort.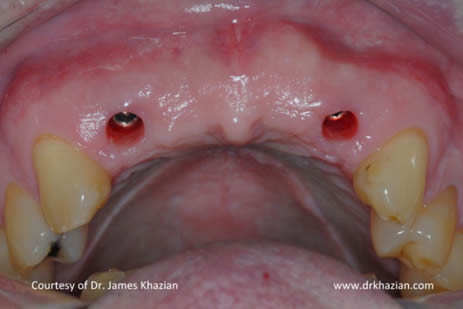 This picture shows the 2 dental implants about 4 months after insertion. The gum has completely healed and the case is ready for the construction of final teeth. During the 4 months healing period a temporary prosthesis was provided to patient so he would not be without upper front teeth.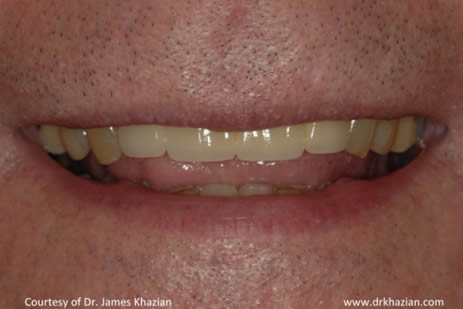 This picture illustrate the smile after the final teeth were attached to dental implants. These teeth are fabricated by CAD CAM technology which consist of computer design and milling.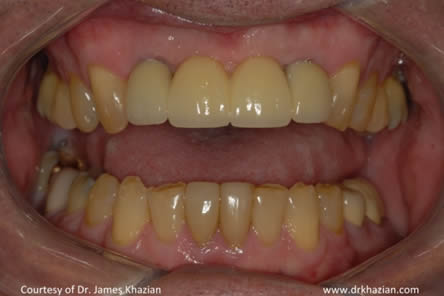 Another picture of completed case with 4 implant teeth that are supported by 2 dental implants. These implant teeth are extremely strong. They are solidly and permanently attached to the jaw bone and provide comfortable chewing and biting. This patient is able to confidently bite into any solid food such as apples, carrots, and nuts. Implant teeth are the closest replacement to natural teeth. Implant teeth feel, function, and look like natural teeth.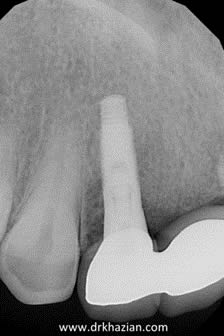 This is the final x-ray of the implant teeth in place. The 2 titanium implants are anchored and bonded to the jaw bone and are used as strong base to hold the final porcelain implant teeth. With proper care and maintenance, implant teeth may last for decades or even possibly life time. Maintenance consist of proper brushing, flossing, and periodic visit to a dentist.
Dental implantology is an important part of modern dentistry. Dental implants replace the missing or terminal teeth to their most natural condition. Unlike dentures which are moveable and uncomfortable, implant teeth become permanently attached to the jaw bone and provide comfortable chewing.
People who have replaced their missing teeth with dental implants feel confident about their teeth, and experience a new enhanced life. They smile without hesitation and enjoy socializing.
Dental Implant Centers of San Diego is the leading provider of all dental implant treatments. Dental Implant Centers is an all in one center which provides all dental implant and other related treatments in one office and by one doctor. 
Dr. James Khazian of Dental Implant Centers has close to 30 years experience in dental implantology. He is a Fellow of the International Congress of Oral Implantology and an Associate Fellow of the American Academy of Implant Dentistry. He has appeared in several educational dental implantology TV shows and his work has been published in scientific journal.
For more information about dental implants, all-on-4, all-on-6, bone grafts, sinus graft, full mouth reconstruction, snap on dentures, and cosmetic dentistry, you may request a free consultation with Dr. Khazian by clicking here or call 866-4my-smile (866-469-7645)