MOLAR IMPLANT TEETH
HOW TO REPLACE 2 MOLAR TEETH WITH DENTAL IMPLANTS
The following case illustrate the replacement of 2 upper molar teeth with dental implants. Molar teeth carry most of the chewing forces and are the strongest teeth in the mouth. Natural molar teeth usually have 3 roots to be able to withstand  the massive load of chewing.
Due to being under such strong chewing forces, and their location in the mouth which makes it difficult to maintain good oral hygiene, molar teeth  quite often crack, fracture, or decay, and are consequently prone to early loss.
Replacement of upper molar teeth was conventionally challenging and in most cases the only available option for patients with missing molar teeth was removable dentures. Fortunately this has changed in today's modern implant dentistry. Dental implants are now offering the best solution for replacement of molar teeth.
The biggest advantage of dental implants for replacement of molar teeth over removable dentures is that dental implants are permanently attached to the jaw bone and become a permanent part of the mouth. Unlike removable dentures which are bulky and not effective for chewing, implant teeth feel and function like natural teeth and patients with dental implants are able to have a healthy diet consisting of vegetables, meat, nuts and other nutrients.
The following case is presented by Dr. James Khazian. This patient is a 52 years old male individual who had lost one molar tooth several years back and presented with another molar tooth that was severely decayed and fractured. This is an actual patient of Dr. Khazian and both surgical and restorative phases of treatment was performed by Dr. Khazian.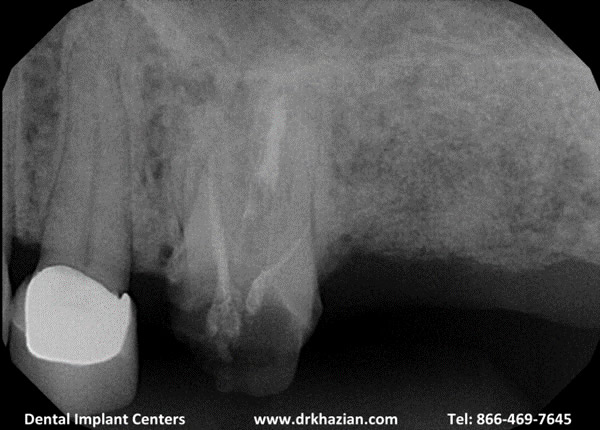 This is the pre operative x-ray showing a broken upper molar tooth and a missing molar tooth. Due to extensive damage, the broken molar tooth was not restorable and had to be extracted. 2 treatment options were presented for the replacement of these 2 molar teeth to this patient. First and best option was dental implants and 2nd was removable denture. Due to its many disadvantages, patient firmly rejected removable denture and decided to proceed with dental implants.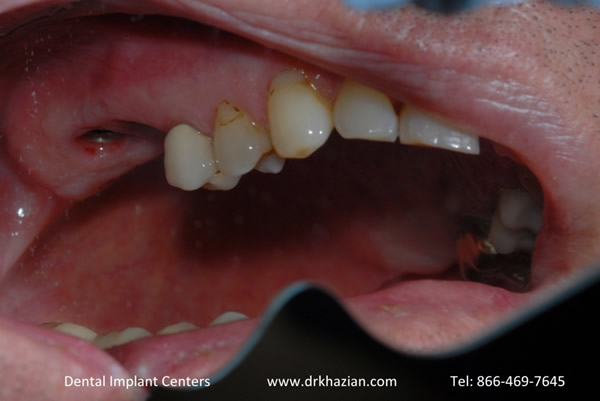 This picture shows the broken molar tooth has been extracted and 2 dental implants placed. This procedure consisted of extracting the broken/decayed molar tooth, bone grafting the site, and placement of 2 large implants. All these were performed in one visit, and under local anesthetics. Such procedure takes about 75-90 minutes to complete.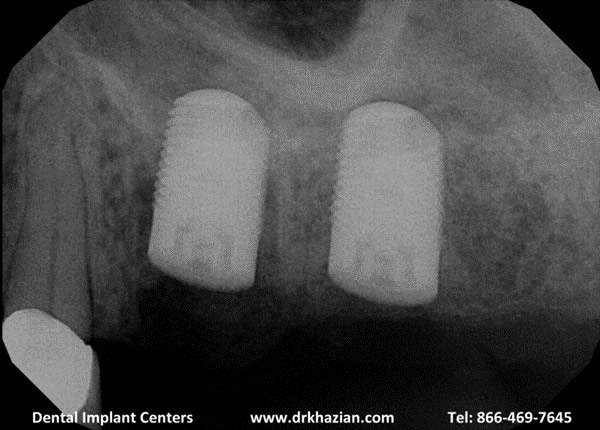 This x-ray shows the 2 molar implants immediately after surgery. These are large diameter implants that are specifically designed for replacement of molar teeth. Initial healing for this procedure was about 2-3 days. During those 2-3 days patient had minor discomfort which was easily controlled with Ibuprofen. Patients are not required to take any time off their work for such dental implant procedures, and are able to return to work the day after surgery.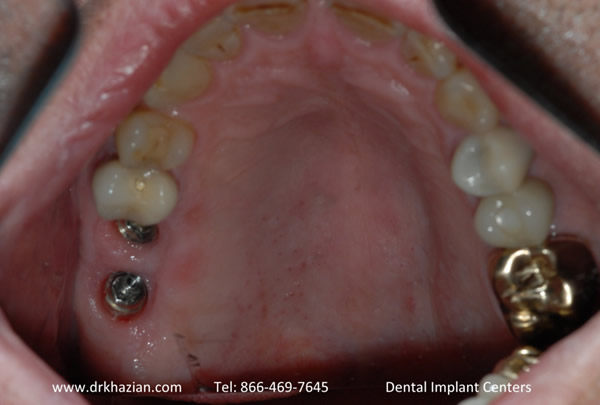 This picture was taken about 4 months after extraction and implant placement. It shows the 2 molar implants through the gum and after healing. At this point these molar implants are ready for the final phase of restoration with 2 porcelain teeth.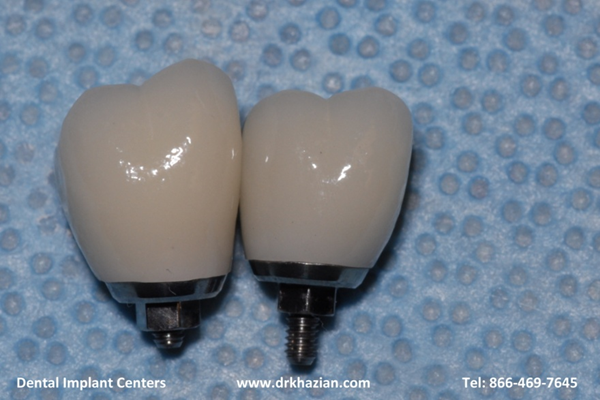 This picture shows the 2 fabricated molar teeth are ready to be attached to dental implants. These teeth are fabricated using advanced computer assisted design and milling. The level of precision in this technology is extremely high. Modern dental laboratories are fully computerized and use advanced materials such as Zirconia and new generations of porcelain in manufacturing these beautiful teeth.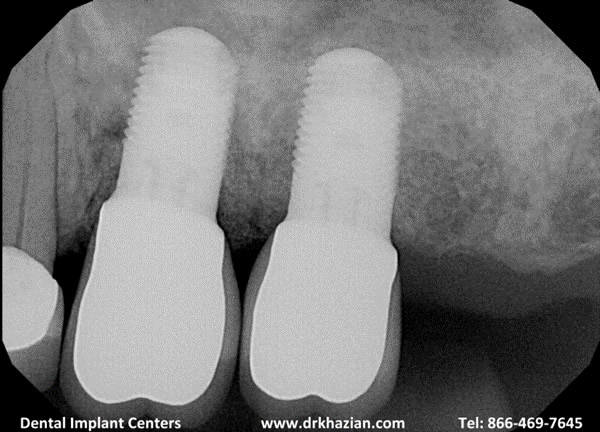 This picture shows the 2 molar porcelain teeth are permanently attached to dental implants. As shown here, these molar implant teeth are supported by patient's jaw bone. These are strong and natural looking teeth that have become a permanent part of the mouth. They feel and function like natural teeth. Patient can brush and floss them as he does his natural teeth.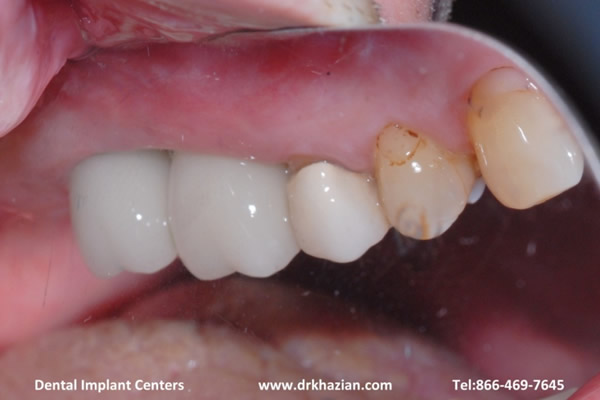 Another picture shows the finished treatment with 2 molar implant teeth in place. They are natural looking and patient is able to chew with them without hesitation.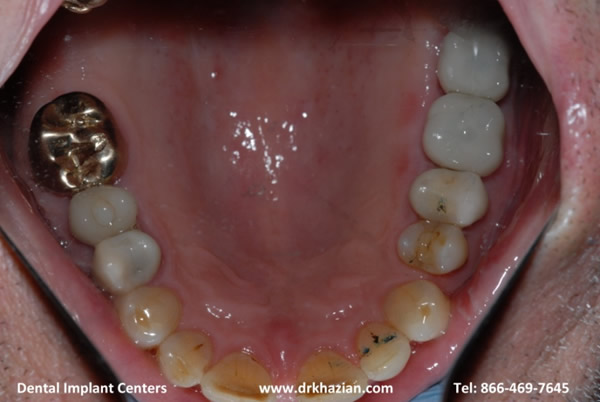 Implant dentistry is now a predictable and valuable treatment modality for people with missing teeth. Millions of Americans replaced their missing teeth with dental implants and been able to enjoy eating normally,  got their self confidence back, smile without hesitation and socialize freely, and became healthier and happier individuals. 
Dental Implant Centers of San Diego is the leading provider of all dental implant treatments. Dental Implant Centers is an all in one center which provides all dental implant and other related treatments in one office and by one doctor. 
Dr. James Khazian of Dental Implant Centers has close to 30 years experience in dental implantology. He is a Fellow of the International Congress of Oral Implantology and an Associate Fellow of the American Academy of Implant Dentistry. He has appeared in several educational dental implantology TV shows and his work has been published in scientific journal.
For more information about dental implants, all-on-4, all-on-6, bone grafts, sinus graft, full mouth reconstruction, snap on dentures, and cosmetic dentistry, you may request a free consultation with Dr. Khazian by clicking here or call 866-4my-smile (866-469-7645).