REPLACEMENT OF AN UPPER FRONT TOOTH
Replacement of an upper front tooth is by far one of the most challenging implant treatments of all. This is due to the esthetic consideration in front of the mouth. Upper front teeth are the most prominent facial feature when you smile and an attractive smile is the most important asset in your personal and professional life.
Replacement of a single tooth in the front of the mouth requires a very disciplined approach by dental implantologist to make sure the absolute best result is achieved. Even a smallest error by the dental implantologist would result in an unaesthetic appearance which would not be acceptable by patients. Maintaining the gum architecture and curves is extremely important and quite often require superb skill, knowledge, and experience on the part of implantologist. Equally critical is the color matching so the final tooth would blend in and have natural appearance.
The following is an actual case treated by Dr. Khazian: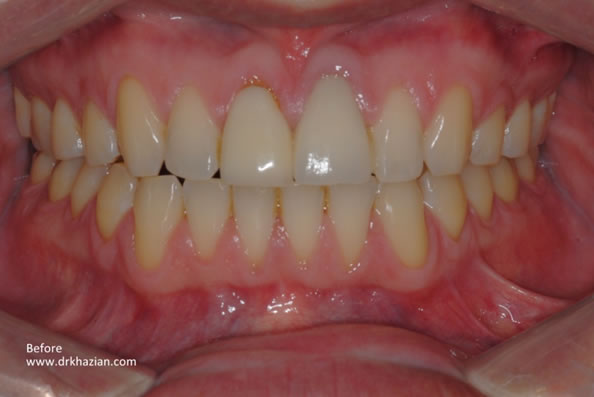 This before picture shows an upper front tooth that had to be removed due to failed root canal and infection. The arrow points to this single upper front tooth. This front tooth was extracted and treated to eliminate infection. Note the gum recession in front of this upper front tooth.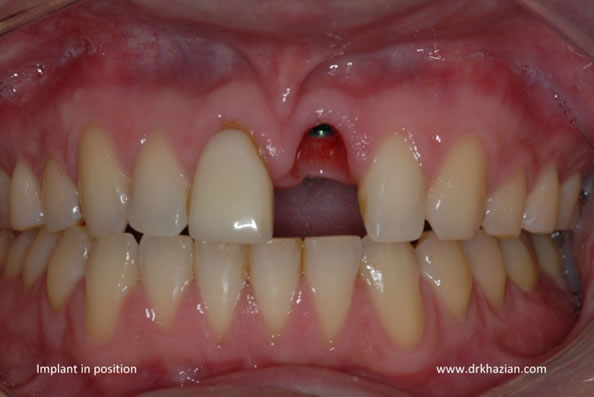 Bone graft had to be done to repair the upper front tooth socket. Consequently a dental implant was placed. This picture shows the well preserved  gum, and the implant.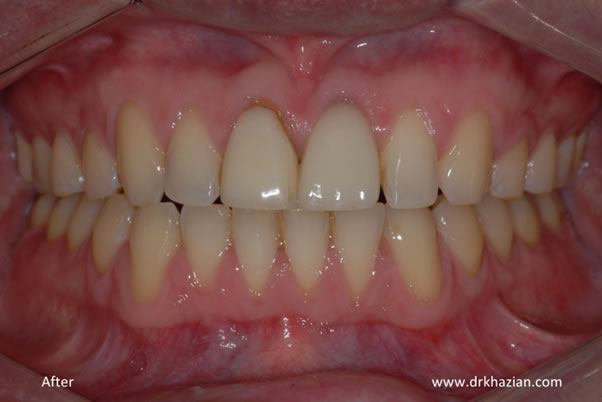 This picture shows the final upper front tooth attached to implant and treatment is completed. Note excellent color matching and healthy gum appearance. This single upper front implants blends in perfectly and has an ultimate natural look.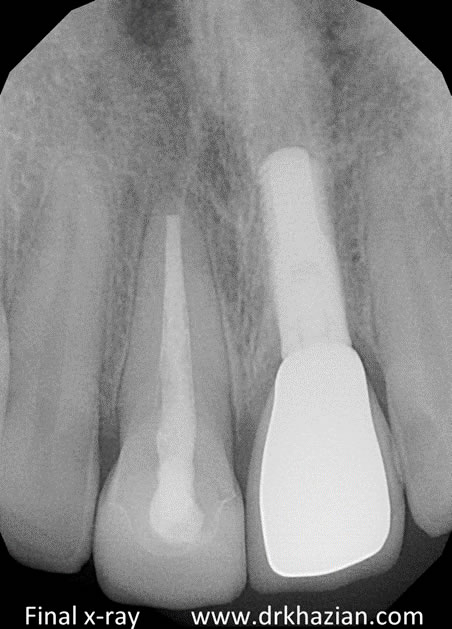 This is the final x-ray showing the upper front implant tooth. As being seen here, dental implant is firmly bonded to the jaw bone and is providing strong foundation for the porcelain tooth. Patient can easily brush and floss this tooth as done on all other natural teeth.
Dental implantology helps replace missing or defective teeth and provides the best alternative to natural teeth. Dental implants anchor tightly to jaw bone and create a biological bond to the bone. Once integrated and healed into the bone, dental implants can support natural looking porcelain teeth.
Dental Implant Centers of San Diego is the leading provider of all dental implant treatments. Dental Implant Centers is an all in one center which provides all dental implant and other related treatments in one office and by one doctor.  
Dr. James Khazian of Dental Implant Centers has close to 30 years experience in dental implantology. He is a Fellow of the International Congress of Oral Implantology and an Associate Fellow of the American Academy of Implant Dentistry. He has appeared in several educational dental implantology TV shows and his work has been published in scientific journal.
For more information about dental implants, all-on-4, all-on-6, bone grafts, sinus graft, full mouth reconstruction, snap on dentures, and cosmetic dentistry, you may request a free consultation with Dr. Khazian by clicking here or call 866-4my-smile (866-469-7645)